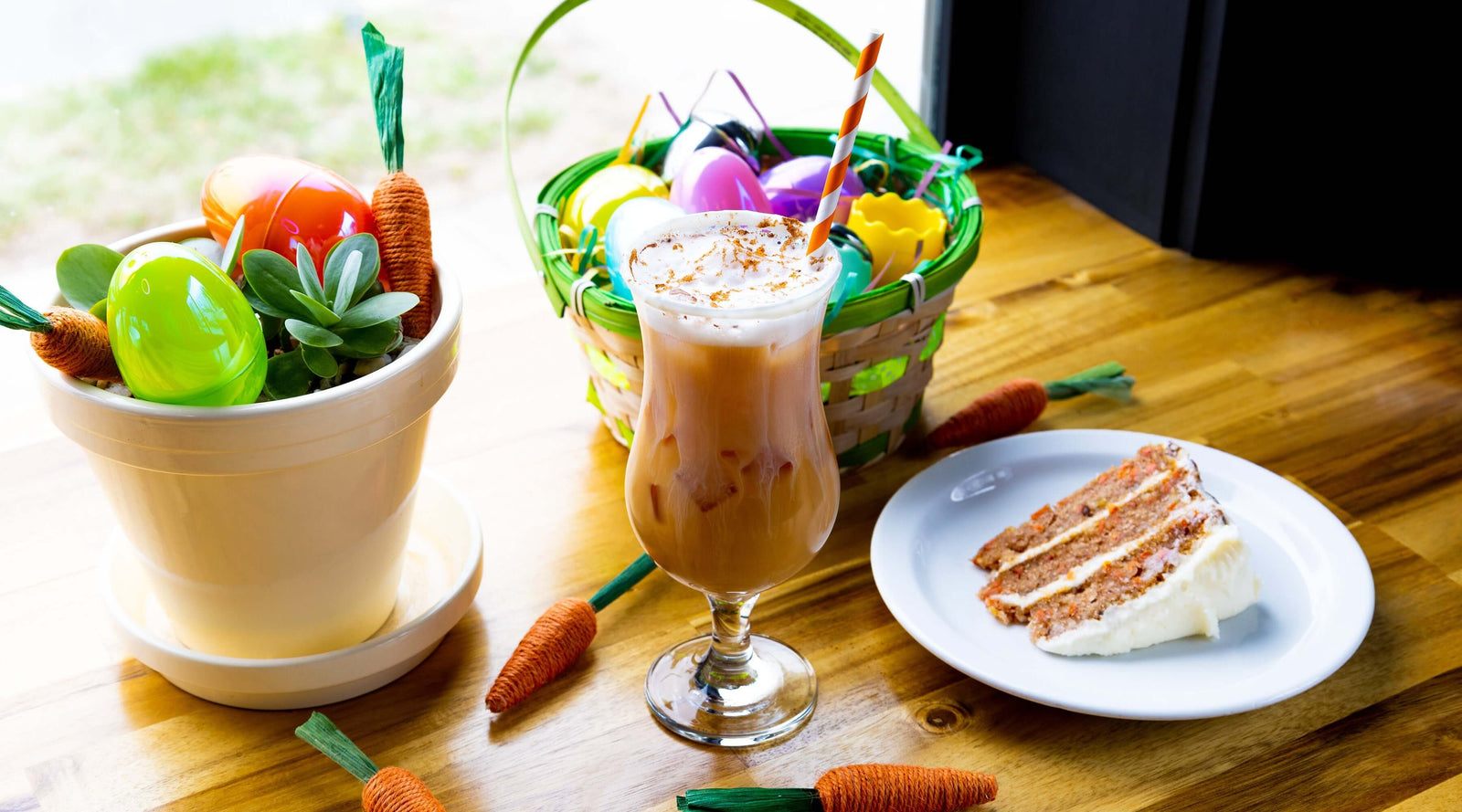 Carrot Cake Latte Delight: A Perfect Easter Treat!
Carrot Cake is a classic dessert - especially for Easter. It combines moist, spiced carrot cake layers with sweet and tangy cream cheese frosting.
When it comes to Easter drink recipes, this one takes the cake! This Carrot Cake latte is a delicious drink that can be used to celebrate Easter, Mother's Day, or the start of Spring.
No Carbs, Same Taste!
There's no reason to skip dessert, especially when there's low-calorie dense alternatives such as this Carrot Cake tea! This brilliant tea tricks the mind into thinking a freshly baked slice of carrot cake is right under our noses. Made with a rooibos and honeybush base to provide a bit of warmth to the flavor profile, there are real pieces of carrots found in the blend of this tea. Carrot Cake tea has a touch of sweetness with its white chocolate pieces, a sprinkle of ginger and cinnamon to give it a spice. 
Carrot Cake in a Cup: A Deliciously Spiced Tea Blend!
Who can resist a velvety slice of freshly baked carrot cake? Our Carrot Cake tea is packed with rich flavor and tastes like a blue-ribbon-winning dessert.
Candied ginger, sweet raisins, and cinnamon give this rooibos tea a homemade charm. A sprinkle of white chocolate chips even adds a hint of the classic cream cheese frosting. 
Carrot Cake rooibos tea is caffeine-free so you can indulge in a sweet cuppa after dinner.
Carrot Cake Latte
Servings: 2
Yield: 2 servings
What You Need
Steeping Instructions
STEP 1
Add 4 tbsp of Carrot Cake loose-leaf tea into your infuser/tea bag.
STEP 2
Heat up 24 oz of filtered water to 195 degrees Fahrenheit. Pour over tea infuser/tea bag.
STEP 3
Let steep for 7 minutes, then remove infuser/tea bag.
STEP 4
Let sit for 30 minutes until the tea reaches room temperature - you may add ice cubes to speed up this process. Then put into the refrigerator until ready to use.
Cream Cheese Frosting Rim Instructions
What You Need
STEP 1
Add 4 tbsp of softened cream cheese to a bowl.
STEP 2
Add 2 tbsp of powdered sugar and 2 tbsp of milk to cream cheese.
STEP 3
Mix ingredients together until completely combined with no lumps.
STEP 4
Dip the rim of your glass into the cream cheese frosting mixture and set aside.
Instructions
STEP 1
Steep your Carrot Cake loose-leaf tea (see Steeping Instructions above)
STEP 2
Rim your glass with your cream cheese frosting mixture (optional - see instructions above)
STEP 3
Fill your glass with ice cubes.
STEP 4
Pour your cooled Carrot Cake tea over the ice until 3/4 the way full.


STEP 5
Add 1/4 cup milk or dairy alternative into a separate cup and froth using your handheld frother/blender until thick and foamy. Then, pour over your tea.
STEP 6
Sprinkle the top of your drink with some cinnamon (optional) and enjoy!
Notes
If your cream cheese frosting mixture is too thick, add more milk 1 tbsp at a time. The mixture shouldn't be overly thick but shouldn't be thin enough to run down the glass either. If the mixture is too thin, add more cream cheese 1 tbsp at a time. You may need to add more sugar, so taste as you go!
This latte can be enjoyed hot as well! Skip letting the tea cool - just rim a glass and pour your tea in with no ice. Then heat your milk until steaming, froth and pour over your tea.
Related Recipes