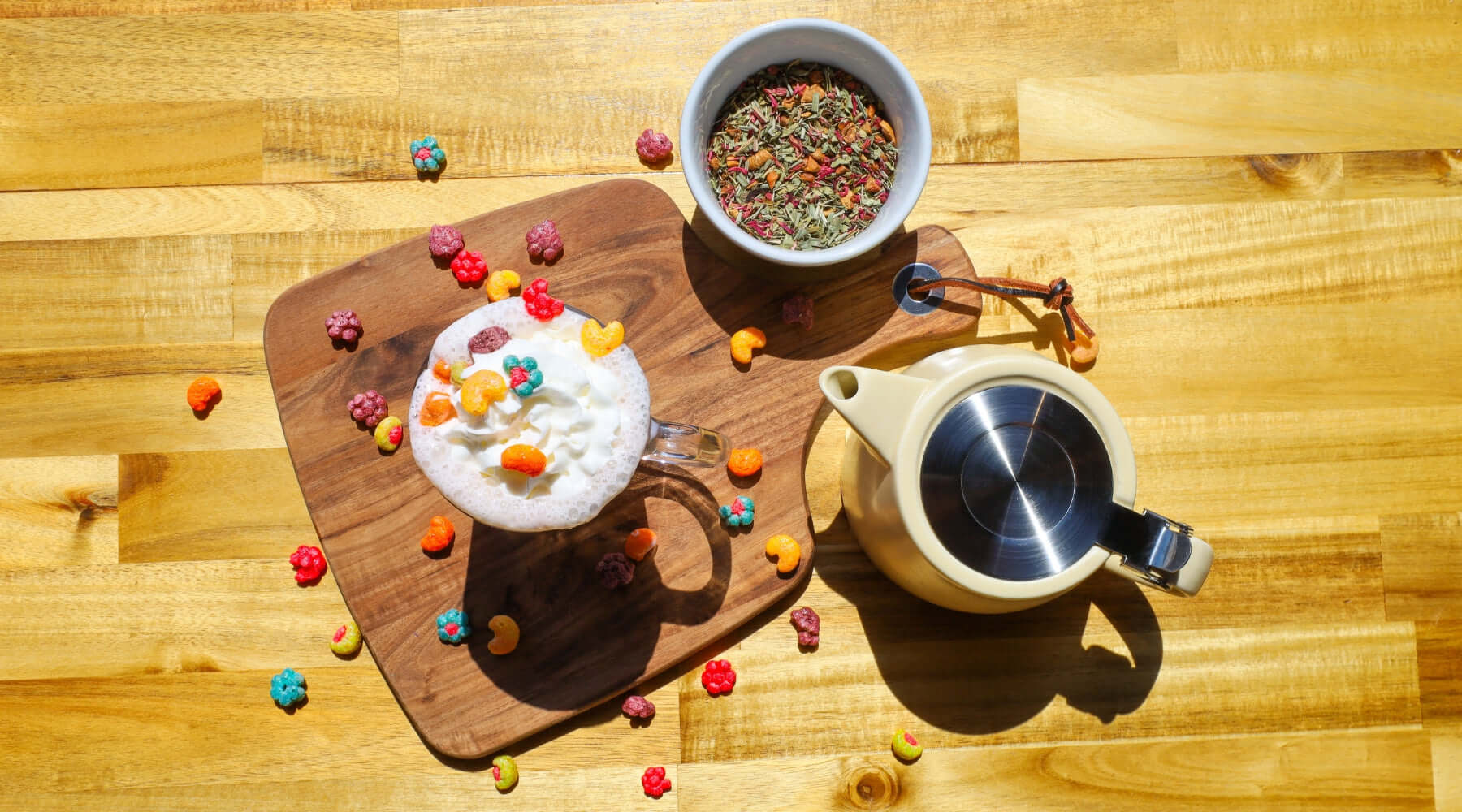 Raspberry Lemon Trix Latte
Transport back to your childhood
If you've tasted our Raspberry Lemon Verbena tea, it might have a familiar taste. The first time we tasted it, it reminded us of a fruity cereal. This is due to the ingredients Lemongrass and Lemon Verbena, which are high in citral, a volatile compound with a characteristic Trix cereal citrus flavor.
Cereal is a fun way to get your day started, or to enjoy as a sweet treat. There's something comforting and nostalgic about a bowl of cereal - and the milk left over just so happens to make a great tasty base for a latte! Infused with Raspberry Lemon Verbena tea (which tastes remarkably like Trix on its own), this is the perfect drink to wake up your taste buds.




A Burst of Fruity Flavor
Feel energized with this vibrant herbal blend of raspberry, lemon and lemon verbena! This refreshing herbal tea packs a flavorful punch with antioxidants and citrus.
Ingredients:
Apple pieces, lemon verbena, lemongrass, hibiscus, lemon pieces, raspberry pieces, cornflower petals, natural flavor (organic compliant) 
Health Benefits of Raspberry Lemon Verbena
Raspberry Lemon Verbena tea contains a variety of health-promoting ingredients, making it a great choice for those looking for a flavorful and healthy drink option to start their day.
Raspberries are packed with nutrients that can help with things such as:
Lowering blood pressure
Helping to prevent stroke and heart disease
Managing diabetes
Lowering blood sugar and cholesterol
Promote healthy skin
Lemon verbena, the bright, sweet herb that tastes so familiar, has a wide range of medicinal properties. In a study by the Journey of the International Society of Sport Nutrition, they found that the Aloysia citrodora (lemon verbena) plant has promising antioxidant and anti-proliferation effects.
Lemongrass also has antioxidant properties that could potentially help with pain and swelling, reducing fever, and improving blood sugar and cholesterol.
A fun twist to your morning cuppa
This family-friendly latte is a delicious caffeine-free option, making it a great drink for all ages. The results of this cereal milk infused latte brings a comforting taste evoking childhood memories. Whether you're looking to add a fun twist to your morning tea or trying to introduce a tasty caffeine-free option to your children, this simple and easy recipe cannot be missed.
The Whistling Kettle
Raspberry Lemon Trix Cereal Latte
What You Need
8oz filtered hot water
1/4 cup milk (or dairy alternative)
2 tbsp Trix cereal
1oz vanilla syrup
Electric frother
Whipped cream (optional)
INSTRUCTIONS


STEP 1
Steep your Raspberry Lemon Verbena loose-leaf tea (see Steeping Instructions above)


STEP 2
In a cup, add 1oz of vanilla syrup and add your tea until 3/4 the way full. Stir until combined.
STEP 3
In a separate, microwave safe cup, pour in 1/4 cup of milk or dairy alternative. Add 1 tbsp of Trix cereal into the milk.


STEP 4
Put your cup into a microwave for 30 seconds. Stir and repeat one more time.


STEP 5
Use a spoon to take out the cereal, or use a strainer.


STEP 6
Using a milk frother, froth the cereal milk until foamy.


STEP 7
Pour your frothed milk over your tea.
STEP 8
Top with whipped cream (optional) and sprinkle the rest of your Trix cereal on top. Enjoy!
Related Recipes