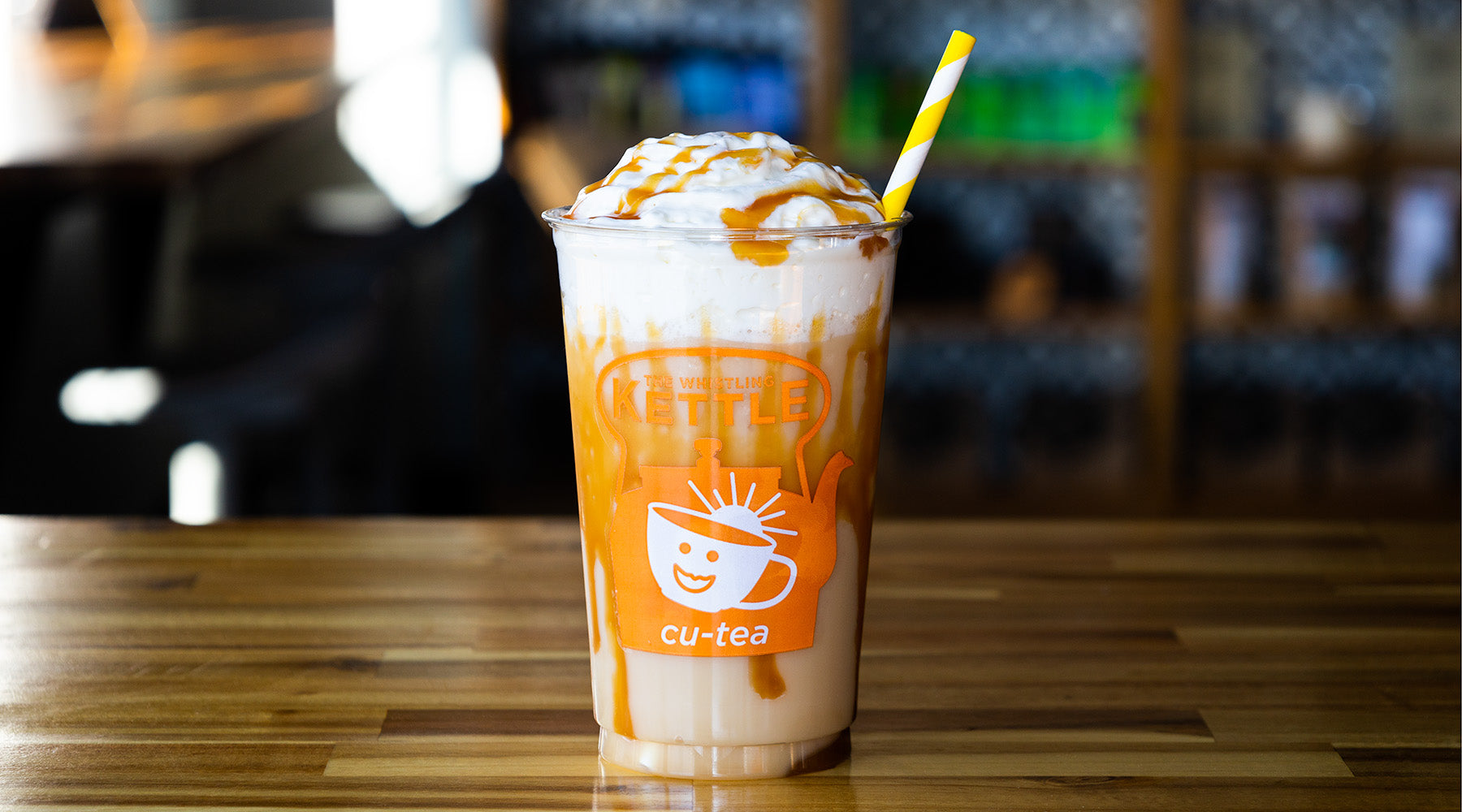 Starbucks Dupe - Salted Caramel Chocolate Frappe
Starbucks Flavors for Non Coffee Drinkers
The Caramel Frappuccino at Starbucks is one of the most popular drinks they offer.
This sweet, buttery caramel drink is delicious - but between gas and the fact that the drink can cost over $6 per drink - it can get pricey fast. Luckily you can easily make the delicious frozen drink at home with just 5 main ingredients - plus save money!
This Copycat Starbucks Caramel Frappuccino is a quick, super easy way to enjoy the same flavors of this tasty drink, with half the calories! A 16 oz (Grande) at Starbucks adds up to approximately 380 calories. This recipe creates a cold, creamy and satisfying frappe that contains just approximately 220 calories per serving!
Starbucks Salted Caramel Chocolate Frappe
Servings: 2
Yield: 2 servings
What You Need
5 tsp Salted Caramel Chocolate loose-leaf tea (24oz steeped tea)
3/4 cup oat milk (or dairy alternative of choice)
2 cups ice cubes
2 tbsp sugar
Whipped cream
Caramel syrup (for drizzle/garnish)
Xanthan gum (optional)
Blender
Drinking glass
24 oz filtered water (for steeping tea)
Steeping Instructions
STEP 1
Add 5 tsp of Salted Caramel Chocolate loose-leaf tea into your infuser/tea bag.
 
STEP 2
Heat 24 oz of filtered water to 212 F. Pour over tea infuser/tea bag.
STEP 3
Let steep for 5 minutes. Once finished steeping, remove your infuser or tea bag.
STEP 4
Let tea come to room temperature before placing into the refrigerator to chill. **Note you will have extra tea left over
Instructions
Step 1
Pour 2 cups of ice into your blender.
Step 2
Add 1 cup of chilled Salted Caramel Chocolate tea and 3/4 cup of milk into the blender. (For extra caramel flavor, you can add 1-2 tbsp of caramel syrup before blending.)
Step 3
Blend ingredients together on high until smooth.
Step 4
Prepare your cups with a generous drizzle of caramel sauce around the inside.
Step 5
Pour blended frappuccinos into the glasses.
Step 6
Top with whipped cream and caramel drizzle. Grab a straw & enjoy!
NOTES
It can be hard to naturally get the perfect frappuccino texture. Be careful not to add too much ice, and stir to make sure the ice incorporates with the liquids. If you like a thicker consistency, you can add more ice.

Xanthan gum helps to create a smooth consistency and keeps your drink from separating after being blended. Add just 1/4 tsp before blending for the perfect texture. 

This recipe doesn't contain any chocolate syrup - but you can add 1 tbsp before blending for a stronger chocolate caramel flavor.

If you're a coffee drinker, you can use a chilled coffee in placement for the tea in this recipe.