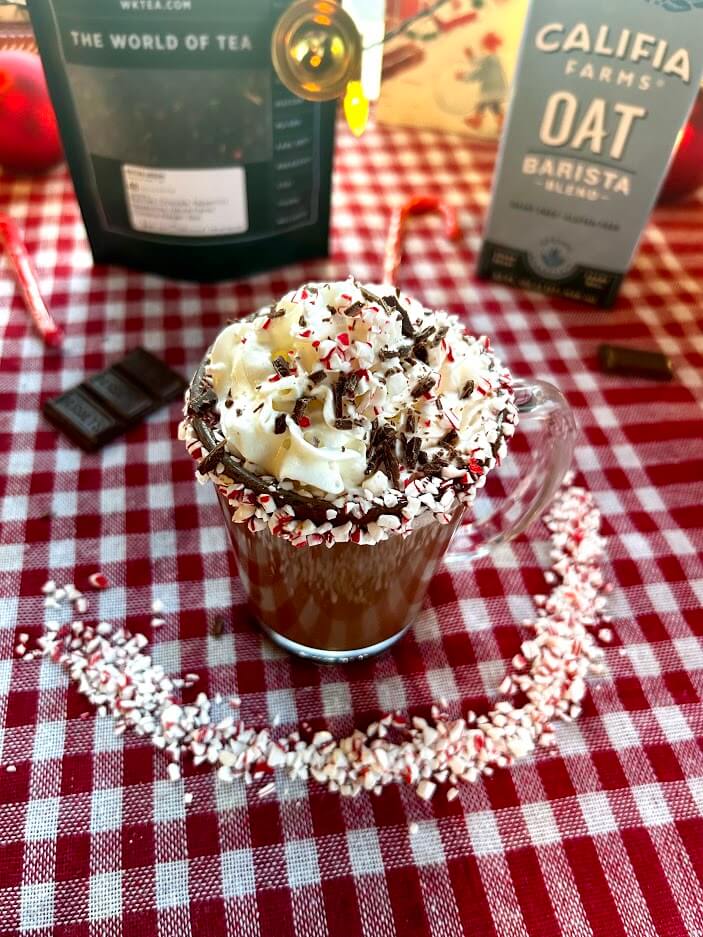 Day 11 of 12 - Choco-latte Peppermint Winter Dream Recipe
Day 11: Choco-latte Peppermint Winter Dream​
Chocolate and peppermint have to be one of the best holiday flavor combinations ever. If you're not a coffee lover, but you miss the peppermint mocha flavors this winter, this is the drink for you. This tea latte is inspired by peppermint hot chocolate, bringing vibes of coziness by the fireplace.
This latte is a chocoholic's dream - and a great low-calorie alternative to hot cocoa. This chocolate peppermint latte, made with black tea, will give you the energizing caffeine kick you need to get through the holiday season. 
WHAT YOU NEED:​
(Makes 1-2 servings)
18oz filtered water
3 tbsp loose leaf

Winter Dream tea

2-3 tbsp sugar (or sweetener of choice)
1/2 cup oat milk (or dairy/dairy alternative of choice)
2 tbsp chocolate syrup
Whipped cream
Grated chocolate (for rim & garnish)
Crushed candy cane (for rim & garnish)
(Makes 1-2 servings)
Heat 8oz of water until 180 F
Add 2 tbsp

Plum Cake tea

in a

large infuser basket

or disposable, fillable

tea bag

.
Submerge infuser or tea bag and steep for 3 minutes.
Remove infuser or tea bag.
Sift the

vanilla matcha

 into a small bowl.
Add 4oz of hot tea to the matcha powder and whisk until completely dissolved without any lumps.
Add your choice of sweetener to the matcha mixture.
Continue to whisk until your sweetener dissolves and bubbles form on top.
Pour matcha into a glass.
Heat up your milk or dairy alternative until steaming, do not boil.
Froth together until desired foaminess.
Add frothed milk to your cup of matcha.
Top off your glass with whipped cream for a more indulgent experience.
Sprinkle some matcha powder on top & enjoy!
Notes
Want to try this iced? Try cold steeping your tea overnight for a strong tea concentrate. Simply add 5 tbsp of tea into your infuser, pour in cold filtered water, and let sit in the fridge for 6-24 hours. Then add in ice to a glass and pour over your tea concentrate. Keep in mind this will have a stronger flavor - so only add to 1/2 of your concentrate of your glass. Then pour over your milk or dairy alternative.
You can use any milk (dairy or dairy-free) for this drink - simply add chocolate syrup to make it chocolate milk if you're not using pre-made chocolate milk.
You can adjust the sweetness of this drink to your liking. We used sugar, but honey, maple syrup or any other alternative sweetener would also work. You can also use regular milk and skip adding the chocolate syrup for a less rich but still flavorful latte!
Try it yourself - take an additional 5% off 12 Days of Recipes Related Teas now thru Christmas Day! Automatic discount applied.