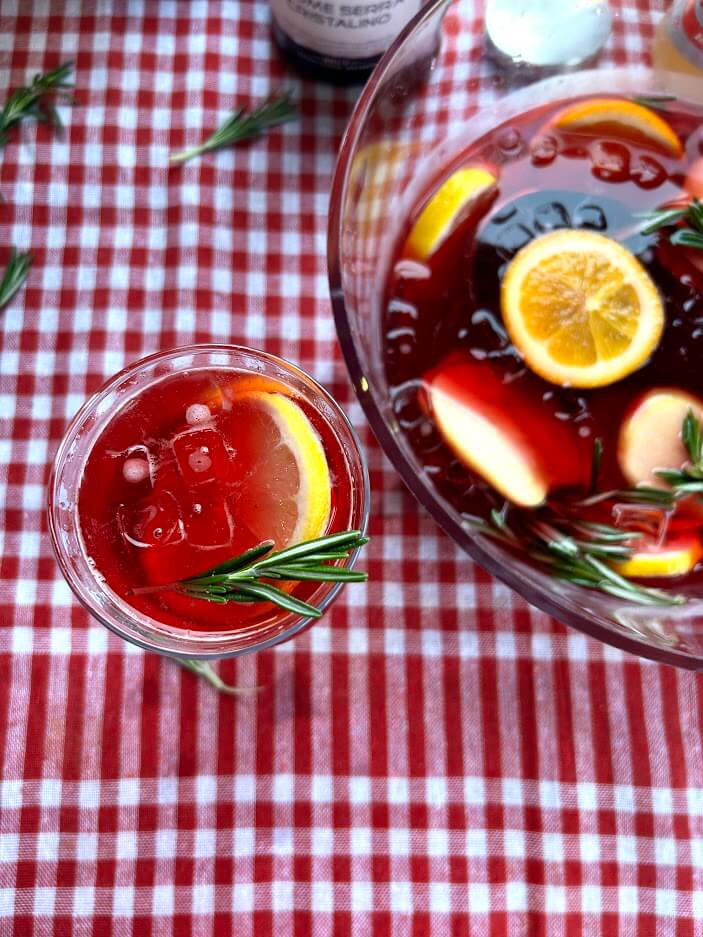 Day 12 of 12 - Sparkling Par-TEA Punch
Day 12: Sparkling Par-TEA Punch​
To end off our 12 Days of Recipes, we thought what better to end with than Christmas inspired punch that your whole party will love. When hosting a crowd, why not make a big punch bowl full of Raspberry Cherry Tea Fruit Punch? This bubbly, festive and easy Christmas punch is light, refreshing, and not overly sweet making it a great addition to your holiday party.
The only thing you need to do ahead of time is cold brew some Raspberry Cherry Compote tea. Our Raspberry Cherry Compote tea full of fresh raspberries, ripe cherries, sweet bananas, shredded coconut and hibiscus to create a fruity, fragrant, tropical delight. If you're in a hurry, you can brew the tea very strong and dilute it with some ice cubes.
Once your tea is brewed, this recipe is as simple as slice, pour & mix!
What you'll need:
(Makes 4-6 servings)
Loose leaf

p

aper tea bags

, or the

Conflicted Iced Tea Brewer

32oz wide mouth mason jar (if not using the

Conflicted Brewer

)
A punch bowl, large pitcher, or other drink dispenser
32oz cups filtered water
1 bottle prosecco (or ginger ale)
1/4-1/2 cup apple juice
2 cups of ice
Slices of lime, lemon, orange and apple (optional)
Rosemary (for garnish)
Directions:
Add 6 TBSP of

Raspberry Cherry Compote

to loose leaf

paper tea bag

, or

Conflicted Iced Tea brewer

.
If using a

paper tea bag

, place into mouth of mason jar.
Pour 24 oz of cold water into mason jar or fill

Conflicted Brewer

.
Cover so it's sealed and place into the fridge 24 hours, then remove the infuser.
When the tea is brewed, take the tea out of the fridge.
Add your ice to your punch bowl.
Pour in all of your tea concentrate.
Add in your apple juice (the more you add, the sweeter the drink will be)
Just before serving, pour in 1 bottle of prosecco (or 1 liter ginger ale if you want yours alcohol free).
Garnish with rosemary and slices of lime, lemon, orange and apple.
Pour into your glasses & serve!
Notes
We recommend making your tea concentrate the night before for the strongest flavors. When sealed properly, your tea concentrate should last up to a week.
This punch can be made ahead of time, just don't add ice or prosecco/soda until serving as to not dilute or lose its fizz. Keep the punch kid-friendly by keeping the alcohol on the side for guests to add on their own.
If you need a nut free tea option, try replacing the tea in this recipe for our Pomegranate Cranberry tea or Purple Punch tea! Need a caffeine-free option? Use our Casablanca fruit tisane.
This tea is naturally sweet, but if you'd like to sweeten the mixture more, add simple syrup to your liking by combining water and sugar in a small saucepan and boiling until the sugar has dissolved completely then let cool.