Sleep Tight
Naturally caffeine-free and soothing, this infusion of chamomile flowers and valerian root herbs ...
Regular

from $3.00
Sale

from $3.00

Regular
Unit Price

per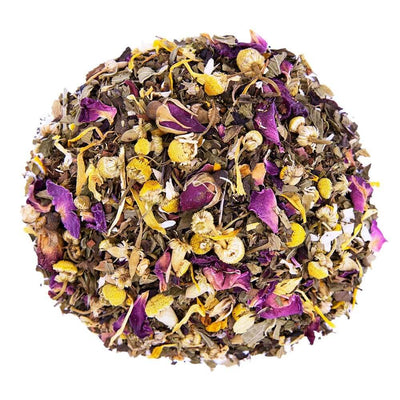 Total Body
Looking to get your entire body back in balance? Total Body features relaxing chamomile, sweet pe...
Regular

from $3.00
Sale

from $3.00

Regular
Unit Price

per
Our herbal teas are specially crafted to help you wind down and prepare for a restful night's sleep. Our bedtime teas are designed to relax your body and mind, promoting a sense of calm and tranquility that sets the stage for a peaceful night of rest.
Our herbal blends are made from only the highest quality ingredients, carefully selected for their soothing and sleep-promoting properties. Whether you prefer the gentle floral notes of chamomile, the earthy sweetness of valerian root, or the spicy warmth of ginger, we have a tea to suit your taste and promote relaxation.
Drinking our bedtime teas before sleep not only helps to relax your mind and body, but can also have a positive impact on your overall health and well-being. Our teas are caffeine-free and contain no artificial additives, making them a natural and healthy way to unwind at the end of a long day.
So why not make drinking herbal tea before bed a part of your nightly routine? Relax and unwind with our delicious and soothing blends, and wake up feeling refreshed and rejuvenated, ready to take on whatever the day may bring. Try our bedtime teas today and discover the benefits of a good night's sleep.